Thirty Scary Tales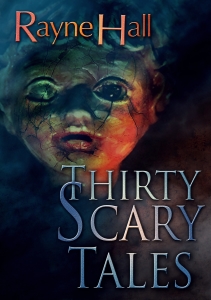 Right off the top I really enjoyed these Thirty Scary Tales. The author Rayne Hall does a very good job at writing. Sometimes when we read a number of short stories in a book they all kind of seem the same. I did not run into that in these.She does well at keeping your interest in the Tale you are reading. For me it was a must finish every time I started one. I am usually laying in bed at night with my cell phone in hand reading away. I like my room it is very dark and quiet. Nothing but the light from my cell with the words in front of me that can give you chills or make you look out the window or over your shoulder. Makes you listen when you think you hear a noise. Good author. As I live in rural area and it is very quiet so you can hear things outside really well. Some of my favorites in the book were Greywalker, The Painted Staircase and Disturbed Sleep.
These stories take me to different places and I get lost in them. They are great Tales to read perhaps on a camping trip. Sitting around the fire. I got to read some on a stormy afternoon one day. Totally passed the time. Very enjoyably I must add. The Thirty Scary Tales aren't going to scare the life out of you but they will keep you on the edge of your seat. If  you are anything like me you will surely get lost in the book. At least for a few hours. It did me. I would encourage you to purchase this book. I am glad that I own it. I am almost done reading it now. Props to Rayne Hall. Great book. Keep them coming. You can find this book online at Amazon.com. You can't beat the price of it. Enjoy……
Purchase link: http://www.amazon.com/thirty-scary-tales-illustrated-stories-ebook/dp/b00egfcs32/ref=sr_1_1?ie=utf8&qid=1410901819&sr=8-1&keywords=thirty+scary+tales
I received one or more of the products mentioned above for free using Tomoson.com. Regardless, I only recommend products or services I use personally and believe will be good for my readers.