Starlight 330
I am going to start this review off by saying. Totally satisfied. This Starlight 330 Led Lantern is awesome. I have used quite a few times already. I go out to my car at night quite a bit because I am always forgetting something in it. This lantern lights the path. As I live in the woods we have wild pigs and deer that roam around at night along with bobcats and many numerous other critters. Yep, right there in my yard. In the woods it's pretty dark. I have a yard light but don't use very much unless company is coming due to electricity prices these days. This lantern lights up a good distance around me on a dark night. This makes me feel a lot more comfortable out there by myself. I love how it works in the house too. I set on my kitchen table which is half in kitchen and half in living room. It threw a nice light to see. No tripping. I could find my ink pen and even write a grocery list using it. We had lost power one evening for about an hour. Was so glad this was close by. I used for the entire hour. During that hour I saw no dimming of the light like it was losing battery power or anything. Turned it back on last night to record this video for review and it was as good as the day I put the batteries in. It takes 3, 3D batteries. Very easy to insert. Batteries are not included.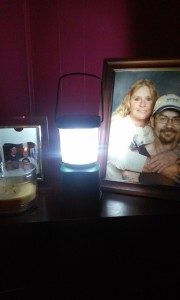 As you can see this is a very bright Starlight 330 Led Lantern. I am sure that you would find it very useful in your home. I know you would love it camping. I will use this year for sure when I go. I am also waiting on my next fishing trip down the river. This lamp on low would be perfect. I would be able to see around me in the boat well. Yet, not bright enough to scare away the fish. This lamp would also be great for hiking. It would be good for hunting kept on low in your tent. Would light up a tent great. This lanterns 300 Lumens blows away the competition and provides the brightest LED lighting in its class. Super high-efficiency LED light generates little to no heat and can be used continuously for up to six days, making it a must have for any type of emergency and safer and longer lasting than any type of emergency candles! Sturdy rubber and ABS plastic construction for maximum durability and water resistance.
Removable top for focused forward lighting or for use as a hanging area light.
LED lights are guaranteed for up to 100,000 hours of use and never need replacing.


Again, this Starlight 330 is a great find. It is the perfect little lantern for camping, fishing, hiking and emergencies. Just about anything where you need a light it works. Worked great during my power went out for an hour. I went in the kitchen with it and set it on my counter. Lit it up perfectly to make sandwiches, grab soda's and chips. This lantern is very durable. This lantern has a hook to hang it by. Which is very handy. You can remove the glass globe on it if you want to have straight light. Go check it out. You can purchase this lovely from Amazon.com. So glad I got mine. http://www.amazon.com/dp/B00P5YBBKY