Screen Joy Cleaner
This stuff works great. I am very  happy that I got to review this. It came very well packaged and arrived quickly. Screen Joy Cleaner works great on Dvd's, glasses, computers, laptops and glass. I love how it cuts through greasy little fingerprints and big ones. It does not leave it cloudy and smeared looking. Just nice and clean and shiny. Screen Joy Cleaner does everything that it says it will. It comes in a handy little 6.8 ounce bottle which will probably last me for a whole lot of cleaning. Probably at least 100 or more uses I would bet. It came with a nice purple 10×10″ (25×25 cm) microfiber cloth. The cloth is very soft and is washable. I have had no problems whatsoever with the spray pump as it delivers an even an generous amount on my cloth.
I have myself used this on my plasma t.v. Did a great job cleaning it. I clean my glasses with it a bit because every time I cook I manage to splash grease on them or steam from dishes. I have used to clean my dvd's before I put in my player as some haven't been watched in a while. I have so many. This way they get there chance for being clean too. I used on my bathroom mirror and wow! Loved it. All sparkly clean.  It also worked great on my laptop. The laptop really needed something. It's kind of old and I thought the shine was probably gone forever but this revived it for me. Now I can actually see the shine and the clean. I myself haven't tried on the dull surface t.v.'s or computer screens. I don't know if it works on that. I couldn't find where it did or didn't but that would be something I don't think I would recommend. But, again, that's up to you.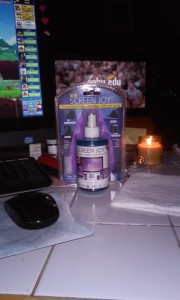 This is the bottle I received. It has been put to much use. I am sure I will find other uses for this too. Oh, it worked great on my rear view mirror. I had to take it with me to brag about it to a friend and how good it works and noticed my mirror was really in need of a cleaning. I just sprayed a couple sprays on my mirror. I wiped it with a Burger King Napkin and I could see. Yay! I would suggest this Screen Joy Cleaner to everyone that has electronics with glass, likes to keep there cd's cleaned good. All sorts of uses with this. You can find this item Screen Joy Cleaner online for a good price at Amazon.com http://www.amazon.com/screen-joy-microfiber-smartphones-investment/dp/b00k4qhwd8/ref=sr_1_20?ie=utf8&qid=1420475104&sr=8-20&keywords=computer+screen+cleaner  Go check it out. The price is very fair in my eyes of only $12.99 plus shipping. Very fair price for as good as it works and as long as I believe it is going to last. Enjoy………….