Professional Dog Nail Grooming Clippers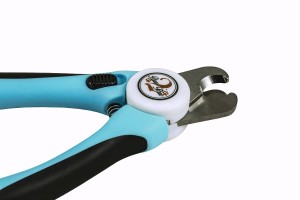 I had the pleasure of trying out these cool professional dog nail clippers! These worked so good for my daughters dog, Bunny! His nails had grown so long and she needed to get them cut.  We were able to cut the nails a little at a time because they were really long.  He is so happy now that his nails aren't so long.  My daughter is also relieved she doesn't have to take the dog to the vet for them to do it now.
She's now confident that this can be done at home! Thanks for making her life easier and the dogs life less stressful because he doesn't like going to the vet!
Dog Nail Clipper comes in an ergonomic design, ensuring a comfortable and secure grip to greatly reduce the risk of injuries when cutting your pets claws. Never overcut again

Our Quality stainless steel won't rust but stay sharp for weekly use

Blades are shaped to fit your dogs different size claws. Comes with a nail file to soften and smooth the edges of the Nails. This is helpful particularly for older dogs who do not naturally file their nails while walking any longer

Clippers are specifically meant for trimming large and giant dog claws

100% Satisfaction Guarantee – Lifetime Warranty