My Time with Cancer
I had a feeling something wasn't right. In March of this year 2015 I found a lump in my breast. It was very small. I had a feeling it was nothing. Meanwhile my beautiful Golden Retriever of almost 15 years wasn't doing well at all. I had to put her down on St. Patrick's Day. She just woke up one day and couldn't walk anymore. From there it all went downhill for me. I seemed to forget about me. Which should never have happened but it did. I missed her so bad it just slipped my mind. She was so much a part of my life. Road trips to Michigan and back. My best bud she was.
As I said I just felt something had been wrong with me the last 4 or 5 months. My hair was kind of long but I kept having dreams of it coming out in the shower in globs. That really scared me bad. Sometimes I have this extra sense about me that tells me when something is wrong and it was coming through loud and clear. I went and got my hair cut fairly short.That way when I heard the bad news the long stuff was gone already. I didn't think it was too bad since I only had about 4 or 5 inches cut off. I still felt kind of pretty.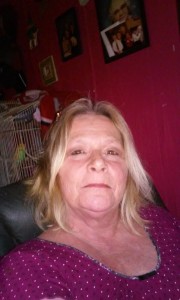 I started doing my breast checks again. I found the lump the first time not standing up doing the test as they say to in the shower. I was laying flat on my back in bed and felt a tender spot. By now it had grown even bigger. I felt it when I rubbed down the outer side of left breast. I called my dr. at once and was scheduled for a mammogram. Well I was told that day there was something there and they were scheduling me for a biopsy. Then I couldn't have biopsy as I am allergic to the stuff they use to freeze me. Instead they decided to just go in an take it out. They did good. I had all clean edges around where they took it out so they started me on radiation. 33 long days of it. I guess I can't complain. I know it could of been much worse. I was so scared. The thought of radiation going into my system like that was horrifying to me.  I did however have someone with me at every appointment. I always had some kind of family with me. Was great for me. People that care. That is always so much a big part of all of these things that happen in our lives. Well next I had to start my radiation. That wasn't to bad after all. I did burn a bit but not as bad as I had heard and expected. I am still quite dark tan under arms and side of breast. I managed to get through this form of treatment pretty well. Dr. told me he was impressed with my attitude and my positive thinking. I did however have Stage 3 Invasive Breast Cancer which doesn't make it easy to keep positive but I kept smiling and dealing with it. Then Chemo started at the end of the 33 days. I had one day in between then Chemo. While I was going through radiation I did however have to go through 2 more surgeries. They also went in and took out lymp nodes under my arm. That was a no fun surgery. Hurt like crazy too. I however managed 3 surgeries in all.
The dark spot is under my armpit is from the radiation. The cut was painful even though it was really sore. I managed with a few pain pills. I am not one to like pills so within a few days I rarely took any. After this surgery I had to have another surgery to put a port in since my veins like to run and hide. Especially when I am nervous and cold. Hospitals are always so cold. I still have this port in my chest. Now that is driving me crazy. A foreign object in there that if I bump it washing or lean on it hurts like crazy. Even though it's all healed now. Sure made Chemo much easier though. I must say My Time with Cancer was not party or pleasure trip.
This is where they put my port in. Still there. Don't know how long it will have to stay. Just getting that out would be so wonderful. Some say months and some say years. Guess it just depends on results I get from the the test now that my Chemo is through for now. I wouldn't want to have to go through having another port put in so I am dealing with this one. Praying that the tests all come back good and that I am cancer free. Here is my fist Chemo treatment. I was so scared. The thought of them putting a needle in my chest was another horrifying moment for me. Was it going to hurt? Was the Chemo going to cause issues for me?
Well here I sit smiling, and terrified all in one. Had my Crimson Tide blanket with me to be comfy and warm. It was actually pretty simple putting in the medicine. They just clean the spot and say take a deep breath and count 1,2,3, on the 3rd breath you take a deep one and I never felt it in our out. Yeah. That was a wonderful thing for me. Then the fear set it on how this Chemo was going to react on me. First they give you a relaxing medication and I just kind of got sleepy some and talked with my daughter-n-law Brittany. My daughter works and my other one has a child that you just don't take to a place like that in my eyes. My other daughter-in-law lived a great distance. But everyone was pulling for me. Keeping my spirits up on the phone and in person. I couldn't of asked for much more love that they all gave me. So appreciated and so important with someone dealing with this. Yes I must say My Time with Cancer was taking a toll on me but I didn't want to let anyone know how I was really feeling. I was slowly getting depressed but I am one that doesn't like to share those kinds of feelings. I always have to be the strong one or I am not happy with myself. I did however notice after 2nd Chemo treatment my hair was starting to come out more. I think between getting rid of the cancer and losing my hair were the 2 most important things to me kind of and the importance of getting well my first concern. I however went to my grandchildren's house. They helped me put my hair up in little pony tails so I could even cut it shorter. I knew it was that time. Here are a couple pics of fun that we shared making grandma silly looking. We did it all together. That was very important to all of us. They were with me all the way.
Some of their expressions were something else. I hated seeing them little pony tails go because I knew what was coming next. No hair soon!! But, we got past all this and still got a ways to go. So glad I have support of my family. I just pray that when other people go through this they can be as blessed as me to have people surround them with love and caring. Being there for that person is so important. I just can't seem to express that enough. They were all saying you are still going to be pretty grandma. Even though now we kid around about my bald head but it makes it so much easier. They of course all wanted on if my little pony tails and they all got one. Well this here is the after cut.
It wasn't to bad but it got raggedier and worse. It started falling out horribly. I dealt with it for a long while. After my first Chemo treatment I had a bad reaction. The Chemo I was given was way to strong for me and the reaction to me and my skin was horrible. They gave me the Neulasta Shot and that seemed to make things even worse for me. I took it twice after 2 Chemo treatments. Oh it just didn't cut it. I was in so much pain. Sick feeling. I must say I never threw up once. Never had to take medication to prevent it. My reaction was horrible though. Everything from radiation was nice and dark almost tan. After the Chemo treatment here is what happened to me. It got all red and blistered up. My face looked really bad for a while.
It hit me hard. I got sores around my lips. Under my arm and down my arm is what you are looking at here. It was horrible red and blistered. They told me the Chemo they had used was to strong for my system. That's what they try first though as it does the job the best. Not for me. They then switched me to a milder Chemo which was way better. I also quit taking the Neulasta Shot. I was put on antibiotics to prevent infections. I am still here so I guess something went right for me. I am just so scared of finding out the results. I have to go back just before Christmas for some tests so I am praying that all goes well and I can put this behind me for now. Maybe grow some hair back. Feel like my good old self again. I have had no energy whatsoever. I didn't for about 5 to 6 months before diagnosis either. That is a blister on my arm in that middle pic from the Chemo where it burnt me from the inside out I guess. It also affected my lips and the antibiotics gave me thrush. Fun, fun. I got past that too.
This is after my last Chemo treatment in My Time with Cancer.  I still don't look really spiffy. Guess I can say I am feeling better sometimes. Yet, sometimes I have days where I just feel like pure pooh. Don't even want to get out of bed. I hate looking in mirrors anymore. I used to love getting out of the shower. Combing my hair, putting on my makeup and making my self look presentable. Not just for others always. A lot of times just for my self. I am 62 and was trying so hard not to fall apart. I went through 4 Chemo treatments. 3 weeks apart. That's all it took to break me down but ya know what. I am a fighter and a survivor. I will not be giving up anytime soon. With 4 lovely children. 10 grandchildren and 3 great grandchildren I am not ready to let any of this go as of yet. I got to much to live for. I plan to be around for another 30 at least if possible.
This is what my hair was  beginning to look like. I wanted to shave it but didn't want to let it go either. I spent around $100.00 or a little more on this wig but not quite satisfied with it. To dark at bangs not at all like I pictured it. Should have been more blond in the front. Didn't realize when I tore the tag off I couldn't return it or I would of returned http://@PaulaYoung It was in fine print which I did not see until it was already off. Outside of the darkness in the front it's beautiful. Just no way to cover it up and look right for me. I finally broke down and shaved the final few pieces of hair I had left the other night. I was wearing my Alabama Cap and the little hairs were sticking straight up. It had to go. Yes I must say My Time with Cancer was depressing but I didn't let it get the best of me. I prayed to the Good Lord to help me get through this and so far so good. This is what I look like now. I can't wear any make up as my eyes water all the time. It wouldn't last. All I can do is light lip stick and a little blush. Try to smile and make the best of it. My nails are breaking horribly at this time. Lines in my nails. Afraid to wear polish as I feel my nails need to breathe. My skin and lips also dried out so bad I was going crazy. I itched from the dryness of it something terrible. I purchased some Carmex Hydration Lotion from Dollar General for my lips and skin. The lip lotion worked perfect and so did the Hydrating Lotion. So this is me now. Someday I will look better I know. I got faith and determination and I going to come through this. This is the last of the pics for now.
Yep, big difference from day 1 but it will get better. I just want everyone to know that you should regularly check yourself for any odd bumps in your breast or anywhere on your body. Catch it quicker then I did. Stage 3 Invasive is not the best thing to  have. Had I caught it sooner I may have been better off. I have made it this far and plan on making it a lot further. I plan on seeing my youngest grand children and my great grandchildren graduate. That is something I don't want to miss. Watching them grow up and become beautiful young men and women. Take heed. Catch it in it's early stages. If it runs in your family get checked earlier. I thought I was doing good at my age. Nobody had cancer far as I knew in my family. Just breathing problems, blood clots, diabetes and heart problems. I got the cancer. You just never know. My Time with Cancer has been one rough ride. You just got to think positive and stay strong for yourself and all your loved ones.

I am now in need of a petscan and I'm going back in because of more lumps. Any help is greatly appreciated, maybe a share too! Thanks so much!