Forever Cool
I am in heaven with this Forever Cool Towel. It is great. I didn't think they made such wonderful things. When I received this I looked at it and thought, this is probably a big joke. Needless to say, I was amazed. When I took it out of the container it comes in it was already cool. So I am wondering to myself. How long is this going to last. Well I went outside and did a little gardening. Had it rolled up around my neck. It felt so cool and damp. After about 20 minutes I took it and re-rolled it and it was cool on the inside part. When I felt the sun warming it up some I would just do that. It's amazing. I don't know how it does it but being outside for a few hours sold me on it. It works.!!  I brought it in and let it catch the breeze of my air conditioner for about a minute and put in it's container. Next time I pulled it out it was cold and damp feeling just like the first time. I have used this Forever Cool on quite a few occasions. Sometimes even in the house when I get busy the air conditioner just doesn't seem to get it. This makes my cleaning and household chores so much more pleasurable. Instead of sweating under my hair and wishing I could pull it up in a ponytail and can't because I cut it off. Now it's nice and cool.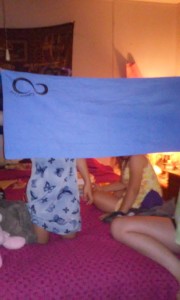 The Forever Cool keeps it's cool temp of about 30 degrees below your body temp for up to around 4 hours. I know right. Just unbelievable. But it's true. I am just going to keep it in the case it came in. That way it's tucked away safe for when I need it. I have had to wash it twice. I did put in my washer on gentle cycle. It came out fine. I then hung it in my bathroom for a bit to get wrinkles out from spinning. Waited for a little while too so it wasn't to wet before I put back in container. It comes with a 100% money back guarantee which is also great. I don't think you will be needing to return it though. I see more people ordering another one then worrying about returning. Just my point of view. Also works great for those hot flashes. I still get them.
Product Description
Have you ever been in a situation where you have to cut your workout short or sit on the bench during a game to recover?
What if you found the answer to instantly cool your body down and wick away sweat effortlessly?
Introducing the Forever Cool Instant Cooling Towel- an innovative new product developed by Live Infinitely.
– Our Yoga towel instantly lowers the temperature of your skin. Quickly feel the dramatic difference as it cools you off. Soon it will be the only thing you reach for when needing to cool down, help with those pesky migraines, when doing yard work or just about anything in between.
– When wet the sports towel's advanced cooling fabric activates and cools to around 30° below average body temperature and stays that way for up to 4 hours.
– Easily carry or store cooling towel in it's own special, convenient and hygienic plastic container. Perfect yoga towel for all body types!
– Anti-bacterial treatment to reduce odors/prevent molding-environmental-friendly PVA material and 100% non-toxic.
– Highly absorbent fabric absorbs water and wicks away sweat leaving you a refreshing and cooling feeling.
The Forever Cool cooling towel is built to cool your body during rigorous sporting activities, in times of intense heat or for simply chilling out. Increase your performance and last longer with this flexible and durable towel. Perfect use as a Golf Towel, Yoga Towel, Workout Towel, Fitness Towel, Exercise Towel, Travel Towel or Everyday Towel.
BUY TODAY TO RECEIVE YOUR FREE COPY of Facts About Fitness, the ultimate guide to getting and staying healthy and fit, AS OUR SPECIAL GIFT TO YOU! Sent immediately after order has been confirmed!
100% MONEY BACK GUARANTEE
You can purchase this at: http://www.amazon.com/Cooling-Towel-Temperature-Eco-Friendly-Performance/dp/B00NVR2AR0/ref=sr_1_24?ie=UTF8&qid=1430969873&sr=8-24&keywords=cooling+towel   The Forever Cool is awesome. For just $14.95 you can't beat that price. Get yourself one today and enjoy……….