Disclosure: I got this product as part of an advertorial.
Dead Sea Mud Soap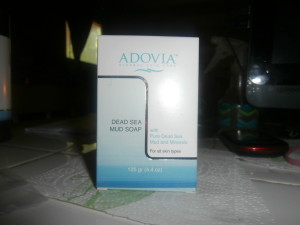 I must really say this Dead Sea Mud Soap from Adovia is excellent. It is good for all kinds of things that can be a problem from psoriasis and eczema symptoms. It is great with helping with acne. Seemed to start working on clearing it up within a few days. Along with the Adovia Dead Sea Mud Mask it is working wonders. It has brightened up my complexion totally. My face feels 100% better. It feels soft. My face does not seem as oily as it use to be. This Dead Sea Mud Soap contains Century Old Dead Sea Mud packed with minerals. I take it that is why my face feels so clean and nourished. This soap has a unique combination of minerals that is contained in the mud. One of my favorite things is that it is made from 100% all natural products. That's a really big plus for me. I like to know what I am putting on my face and using on my body. All natural is the way to go for me.
I don't have a bad case of acne but I am 60 and for some reason I am getting break-outs. I had enough of that as a teen. I really believe it could help after I see what it is doing for me. I have someone in my family I would like to purchase some for. I am sure it would make their life a little better. I think a lot of people are catching on to this Adovia Dead Sea Mud Soap, Masks and all their other products. I am sure this product will become well known before too long for the people that want to know they are taking good care of their face and bodies. I must say I used this in the shower and my whole body came out feeling more refreshed and softer skin. I would say try this Dead Sea Mud Soap. I love it. Makes me feel good and clean.
You can purchase this soap at Amazon.com.  Sold by Trustedonlinestore.

I received one or more of the products mentioned above for free using Tomoson.com. Regardless, I only recommend products or services I use personally and believe will be good for my readers.