Brillante
This is a great little coffee grinder from Brillante. It works great for me. I love buying coffee that is already ground. But, for the weekends this is the way to go for me. I go to my cupboard and decide which flavor of coffee beans I want for today. Either me or the hubby go to grinding.  What a great tasting cup of coffee. Fresh, ground coffee. You can smell the aroma as it's perking in the kitchen.  I even use the old school coffee pot on weekends. Such a relaxation to drink fresh ground coffee in the morning hours. It's just amazing how when you grind your own it aroma is so much more stronger. It's like having a cup of genuine coffee for a change. The real thing. This grinder by Brillante can also be used for grinding pepper or spices. You can mix your own for BBQ Seasonings or whatever you wish. It's small enough to put in your bag when you travel. How wonderful to brew up a cup of fresh coffee in your hotel room or camping out in nature. Makes just enough for me and my hubby for the morning hours. It's so easy to grind. No hard turning. Very simple.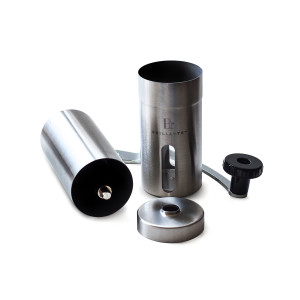 Product Description
Brillante Manual Coffee Grinder
-Excellent for Brewing Espresso, Pour Over, French Press and Turkish Coffee At Home or Away
-Hand Crank Design Works for Coffee Beans, Pepper and Spices
-Compact Travel Ready Size
-Adjustable Ceramic Conical Burr / Mill
You can purchase this at amazon.com for just $29.99 today. Here is the link for you: http://amztk.com/coffee-grinder-ss1  Go check this out for yourself. I love mine. I am sure you will love yours too.