Baby's First Christmas
This is the lovely box that came to me. I was so excited to open it. It came safely wrapped in bubble wrap inside a box. I decided on the Baby's First Christmas Pink Booties. They were beautiful in the picture and just as beautiful if not more when I received them. I anxiously opened the box. I was beside myself. They were so pretty and dainty. I could not  have asked for more. These Baby's First Christmas Booties are so pretty and sparkly. The glass is hand blown and they are perfectly designed. They are also hand painted with a beautiful shade of pink and silvery white. They sparkle. When lights on the Christmas Tree are on they will truly be an amazing and beautiful addition to the tree. The Baby's First Christmas Booties also accented with the prettiest Swarovski pink elements.  When the Christmas tree lights reflect on those little pink elements.The sparkle will be amazing. They just seem to add the finishing touch on these. To finish it off they have a beautiful white satin ribbon that says First Christmas and the year which is 2014.   It won't just be looks either. It will be something that will hold memories for my grand-daughter and grandson for years to come..
These Baby's First Christmas Booties are the perfect gift for any parents. I chose these for my grandson and his wife as this is their first child. It is also my first great-grandchild. Amazing. It thrilled me so to be able to give them something like this that they will have to cherish for years to come. My grand-daughter already told me they were going to hang at the very top of the tree. She said."I can just see it now. They are so pretty. How can I ever thank you?" I told her," She already had." My grandson thought they were pretty amazing and beautiful too. Reed and Barton has many beautiful things for all different occasions. It is a great place to shop. I would surely go back there to shop again when in need of those special gifts. I saw so many other lovely gifts on their site I could hardly believe it. Where have you been all my life Reed and Barton? I would of surely shopped for many special occasions at your site had I known. I feel in my heart the gift that I gave was so appreciated and loved. Every Christmas when they hang the Baby's First Christmas Booties on the tree they will have another moment to treasure and look back and say "Remember last year it was her first." Little trinkets and specials things like that have a way of making the best memories and happy moments. When our beautiful Jaylee get's older she can tell her "This is her Baby's First Christmas Booties ornament for her that hung on the tree her first Christmas."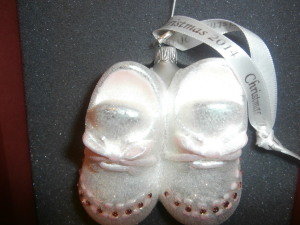 These make for a very wonderful gift. They have many other Baby's First Christmas Ornaments to choose from. All of them beautifully handmade. This ornament is part of their Christmas Reflections Collection of fine handmade European Ornaments. They are elegantly packed and safe I must say. I am so glad I chose these. I know my grand-kids are too. They are 3 1/4″ of pure beauty. I have a short video to put in here. Hope you enjoy it.
This was my grand-daughter when she opened them. She was very happy with my choice. They are a very beautiful gift. I can't say it enough. I could not believe how delicate and yet so astonishingly beautiful they are. I would so encourage someone to purchase this or one of the other fine Baby's First Christmas Ornaments for that special little ones parents. They will be so meaningful and hold a treasure chest of memories. Here are some ways that you can connect with them.
Facebook: https://www.facebook.com/ReedandBarton
Twitter: https://www.facebook.com/ReedandBarton
Pinterest: http://www.pinterest.com/reedandbarton/
Google: https://plus.google.com/u/0/+reedandbarton/posts
Again these are beautiful and would make for a lovely gift for anyone for Baby's First Christmas. Their product here: http://www.reedandbarton.com/christmas-2014/baby-s-first
With the Holidays coming this would be great. Check it out, shop around their site. I am sure you will find something you just can't say no too.
I received one or more of the products mentioned above for free using Tomoson.com. Regardless, I only recommend products or services I use personally and believe will be good for my readers.