Acrylic Paint Set
Love the Acrylic Paint Set from Color Gallery. The colors are so rich and pretty. The paint is just the right texture. I used the lid of the box to put the paint on so I could take pic of the colors and their brightness. This paint goes on really well. I actually have paper for acrylic painting since my grand children love to paint. Sometimes we all paint together. I am not the best painter myself but we sure do enjoy doing this. We make mistakes and figure out how to correct them. Painting is fun and a good experience on working together, sharing and being imaginative. This Acrylic Paint Set has given us hours of fun. This paint can also be used on T-Shirts as they did one of mine. I can't show a pic of it because it is at my friends house. Sorry about that. It does work really well though.

As you can see in the video the colors are really bright and nice. I am sure this would work out for anyone that loves and enjoys painting. By yourself or with children. It is a great pass time for anyone.  You can't beat the price of just $14.95 on Amazon.com http://www.amazon.com/acrylic-paint-set-artists-professionals/dp/b00rngzebo/ You will spend hours with this paint. I like how you only need to squeeze out what you think you need. If it runs out you just squeeze a little more. You receive 12 colors in the Acrylic Paint Set. They are easy to use. They have a classic buttery texture. They also are strong tints and genuine pigments. Durable paint films and artist quality. We also had fun mixing some colors. That's how I came up with a purple looking tree. I personally love these paints. I have purchased other paints and they just didn't seem to work as well as these do.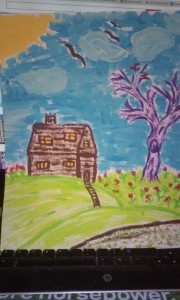 This is my painting. I was just fooling around and having some fun with it. I will always have to keep some of these great paints on hand. For times when I am bored and tired of computer. For rainy days and fun with grandkids. Go check it out. It's great to own. Hope you enjoy it as much as we do.